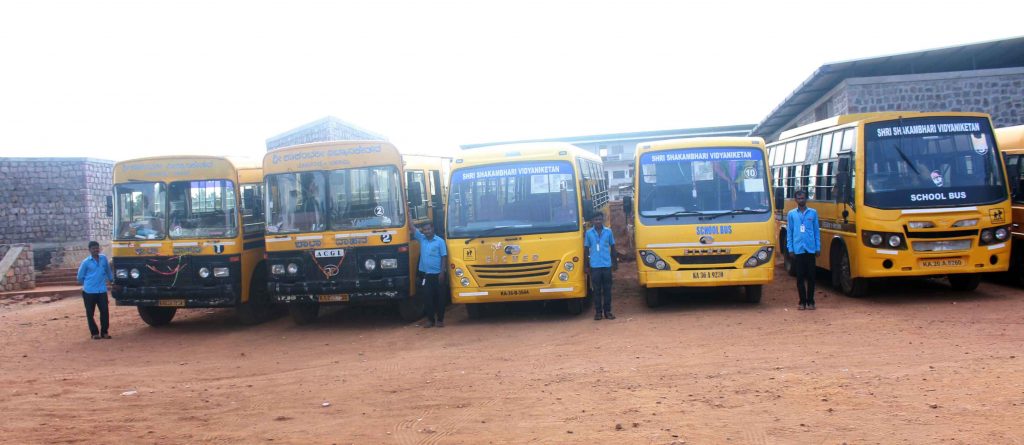 School bus facility with all safety features are available for all near by areas.
A Bus Pass will be issued every year. In case of loss a duplicate Pass will be issued for Rs. 20/- and on submission of one recent passport size photograph. The student must carry the Bus Pass at all times.
Discontinuation of bus during mid of the academic session will not be permitted except under extreme circumstances & with prior approval of Principal.
Students involved in acts of indiscipline especially those affecting the safety and well-being of other students will be debarred from using the bus.
Measures of all kinds will be taken for the safety of students using the school bus. However the school cannot be held responsible for any accident, injury or loss of life.
Arrive at the bus stop at least 5 minutes before bus (Expected Time of Arrival).
A student must carry the bus passes every day&hand over the same to conductor in the morning.
If a student has been picked up by parent, a written information must be given to Vice-Principal/HM and Bus I/c for accountability and to avoid any confusion.
If a student is unable to board the bus in the afternoon due to any reason, he/she must report immediately to the main office/Vice Principal's office/ any school official. Parent must educate/brief children in this regard.
Without proper bus passes, students will not to be allowed to travel in the school bus.
Remain seated in the bus and do not extend a body part outside the window.
Please intimate the school office in case of change of address to help update school records.
The bus facility is provided on a 'No Profit, No Loss' basis. A sufficient number of students is required to make it a feasible venture. Hence bus facilities cannot be claimed as a right by any parent.